January: Garnet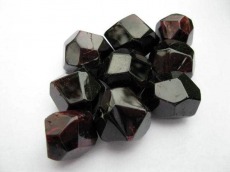 INFORMATION
Garnet is the Birth stone for the month of January in the United States. Red Garnets are the most commonly used variety. However Garnet species are found in many colors including red, orange, yellow, green, purple, brown, black, pink and colorless.
Garnets are most commonly mined in Europe, Russia and South Africa.
HEALING PROPERTIES & CHAKRAS
Garnet is a stone of health, extracting negative energy from the Chakras and transmuting the energy to a beneficial state. It enhances ones internal fire, bringing the creative powers to the stage of implementation. It has been known as a stone of commitment... to purpose, to others and to ones self. The loving powers of garnet tend to reflect the attributes of devotion, bringing the love of others to expressions of warmth and understanding. It stimulates both the base and crown Chakras to provide for free flow of movement, via the spinal column and inner pathway of light, helping to distribute the appropriate amount of energy to each portion of the body.
Chakras

:
Base, Crown, Link, Sacral

Astrological sign

:
Scorpio, Aquarius
PROJECT
Each month we will be posting photos of a project we have created here at the Mother Bead. I hope that it inspires you to create and push yourself to use new and exciting stones. Let your self be creative and inspired. You can follow along and post images of your projects that you have created to get insightful feedback about the progress of your work.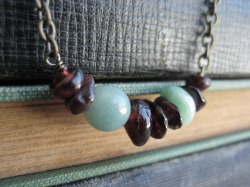 This is a very simple design using 4-6mm garnet chips, a small Chrysoprase rondelle and a 7mm Aventurine round. I chose these stones based on the color combinations only but have included the healing properties for theses stones listed below if any one is inturested.
I love the simplicity of this piece and how the different shapes work with each other. I have attempted to find balance in the asymmetrical placement of the stones depending on their shape and color.
My piece is then assembled using antique bronze chain, wire and a clasp. It's a simple project but the outcome is lovely.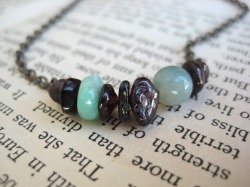 Now its time to Bead! Feel free to leave any questions or comments you may have. Happy Beading!




Chrysoprase
is very useful in balancing yin / yang energies and aligning the chakras with the etherical plane. It activates and opens the heart chakra. Instills a state of grace, facilitating a deep meditative state. Helps one to recognise the trinity within. Helps heal a broken heart. Reduces superiority and inferiority complexes. Chrysoprase strengthens Will and Life Force. Assists in opening the Heart Chakra. Brings harmony and balance, light heartedness and joy. Helps make conscious what was unconscious, encourages hope, improves the eyesight and assists in clarifying problems. A cure for restlessness, it makes the wearer quick witted, imparting adaptability and presence of mind. Eases depression and strengthens the heart.
Chakras:
Heart
Astrological sign:
Libra
Aventurine
is often referred to as the all-purpose healer. This means not only that it is considered by many to be good for physical disorders, but that it heals on all levels. It's a particularly effective crystal for emotional healing (and is especially helpful when worn for this purpose or placed on the heart during chakra balancing). It helps to balance the emotions, and is one of the best stones to wear or carry during stressful periods. Use in crystal layouts on the solar plexus to relieve internalised stress. Aventurine purifies the mental, emotional and Etheric bodies. Bring emotional tranquility, serenity, stillness and peace. Aventurine is good for pain within the heart, a broken heart and all emotional issues to do with the heart. It is centring and provides well being. Aids in releasing anxiety and fear. A wonderful physical healer that releases built up energies that are not harmonious as well as toxins. It purifies the body bringing vitality and flow.
Chakras:
Base, Heart, Sacral, Universal Gateway

Astrological sign:
Aries